Citi Sound Vault Animations


Creative Directors: Angelo D'Agostino, Jeff Nicholas
Senior Art Director: Louie Zuniga
Art Director: Chelsea Cook
3D/Motion Designer: Julia Isman

Citi Sound Vault is a year-round activation platform that offers Citibank cardmembers exclusive access to major acts playing in intimate venues across the US. The series kicks off in January with a coveted lineup of exclusive shows in Los Angeles during Grammy week. Each night, a different artist performs at a well-known venue for an exclusive Citi Sound Vault event.

Every Citi Sound Vault show has an individual look and feel that bridges the aethetic of each specific artist with the grand identity of the Citi Sound Vault series. Throughout each venue, we utilized digital screens to display motion posters that help capture the audience's attention. Below are a few examples from the 2020 Grammy Week Citi Sound Vault shows, as well as the 2019 Madonna and Guns N' Roses show. Ads were displayed throughout the venue, on social platforms, and on digital billboards in Los Angeles.


Below are small snippets of 3D animations I created for a Citi Sound Vault case study.

The production ask included creating a 3D animated space that gives viewers the illusion of walking into a branded bank vault– A glimpse into all the opportunities that Citi cardmembers can unlock with their mobile wallet. Here, I worked strictly in Cinema 4D to create both intro and outro sequences for a longer case study video that was post-edited by the Live Nation Content team.
Topological Typography

Parsons School of Design, Senior Thesis 2019

This project explores the concept of topological letterforms, as they transform in space over time. Topology is the mathematical study of the geometric properties of space that are preserved under continuous deformations, such as stretching, twisting, crumpling, and bending. The main variable in the exploration is the expansion of edges and vertexes— or in other words, how the degree to which one rounds a letterform creates different results and legibility, as parts of the form come together and overlap.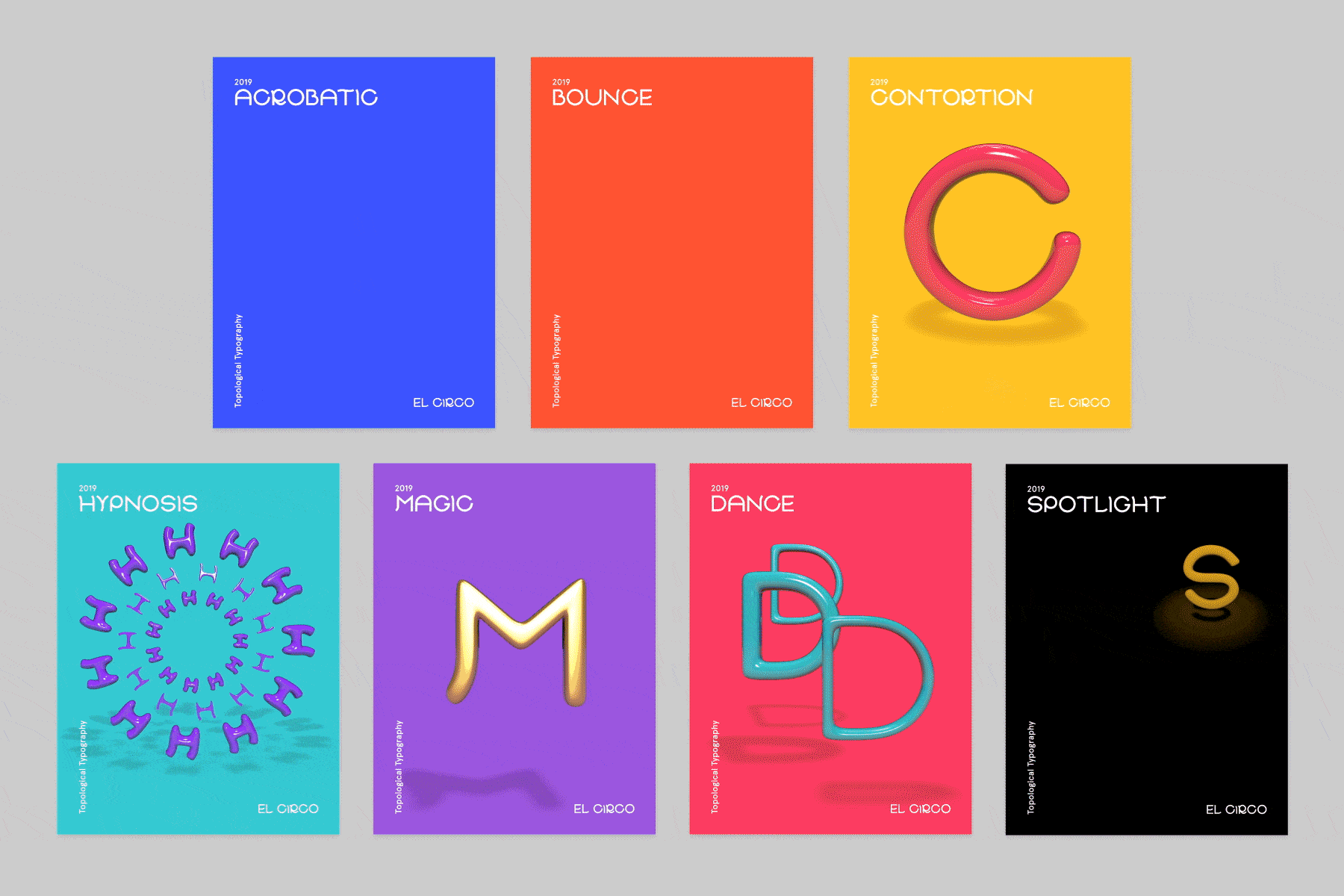 The study came from an initial research into how body movement affects the manipulation of form. It was first investigated through a lens of aerial acrobatics, looking at how the body, the first topology, interacts with aerial silks or an aerial hoop, the second topology. Using a vocabulary of manipulations that the body makes with the silk, I created an index of terms that could similarly be applied to a typeface, such as twisting, expanding, rounding, and loosening. Through this, I tested how extreme the degree of deformation could be before the type became illegible, as well as how minimally it could be applied for the letter to still be part of a system.

Research involved a multi-step process: testing the levels of letterform deformation to create a system, producing an infinite range of weights for a resultant typeface through manipulation over time, and finally using a static version of this typeface applied to a second topological form, a simple rectangular prism. Finally the work expanded on how the application of a kinetic typeface changes the medium to which it is applied.

Putting together the different components of research led to the creation of a topological typeface called El Circo. Its design expresses fluidity and movement, as its curved terminals and rounded geometry are analog to the agile acrobats of a contemporary circus. Its weights are solely based on the expansion of edges and vertexes over time, and it can do so both in 2D and 3D realms. The final type specimen is presented as a set of motion posters. The letterforms push the limits of dimension by having an infinite range of weights, as the soft dynamics of the form are affected by action and reaction. All of this is tied together under the umbrella of a circus because it is, after all, where it all began.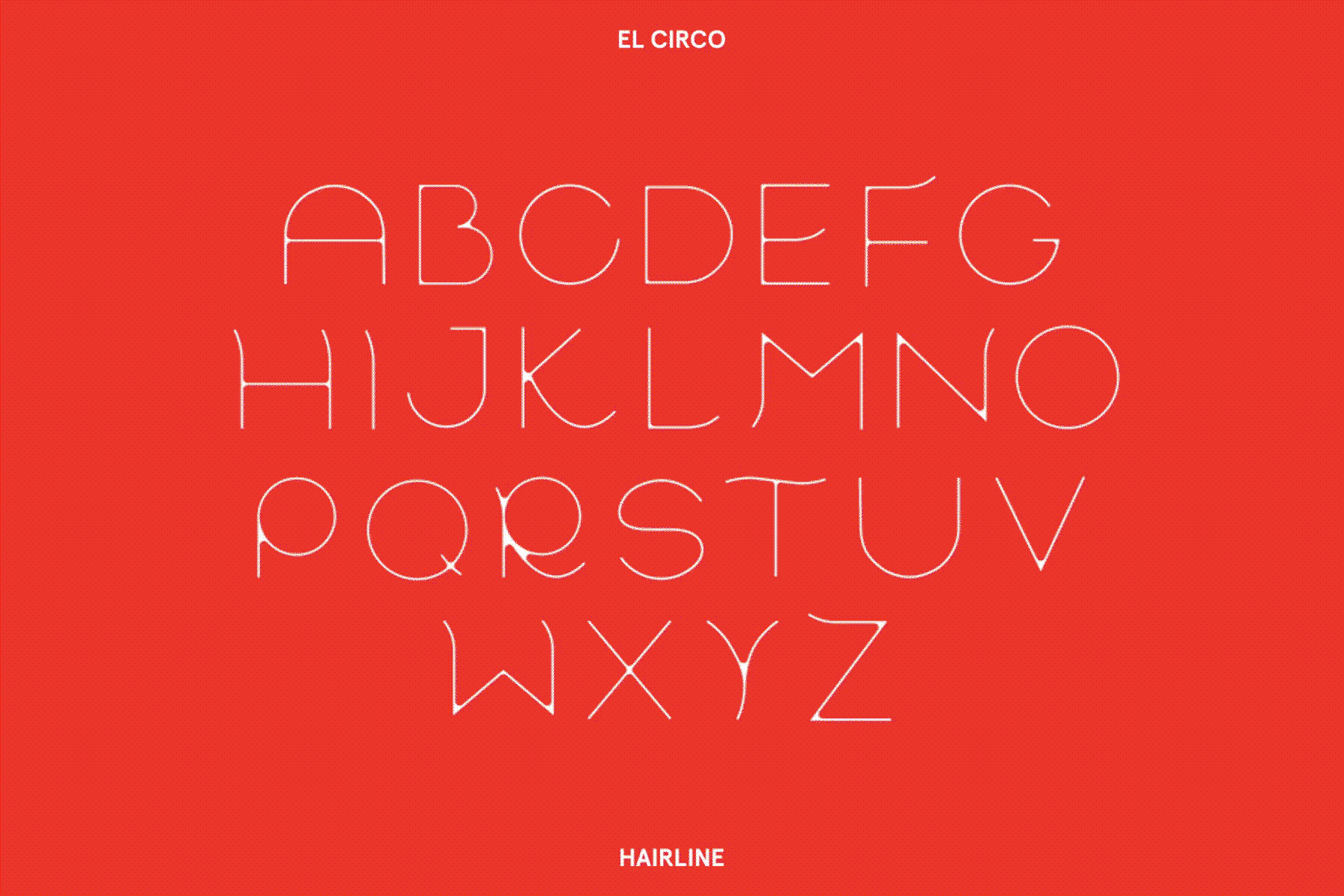 Nowhere Festival is a place where artists, musicians, fashionistas, and forward-thinkers can truly be free. It is free for expression and for thought. It is an urban community that brings together out of this world experiences. This assignment required me to create a full set of brand guidelines for a new concept festival in New York City, called Nowhere. Below the title, you can find a link to the full brand guidelines, which include visuals and explanations of what the festival's identity.

Welcome to Nowhere.


Hero Search Challenge

Copywriter: Adam Tillinghast
Designer: Julia Isman


Every year, Cannes Lions Festival hosts a Young Lions competition for agency professionals under the age of 30 to work in teams of two to create a campaign for a nonprofit organization.

This year, the brief involved creating a B2B digital campaign that would raise awareness and funding for CureSearch for Children's Cancer. After researching the organization and how to target this audience, our solution was to create a social campaign targeting consumer good companies through TikTok. The pitch we submittted is shown below. Adam and I worked together as art directors of this project to put it all together.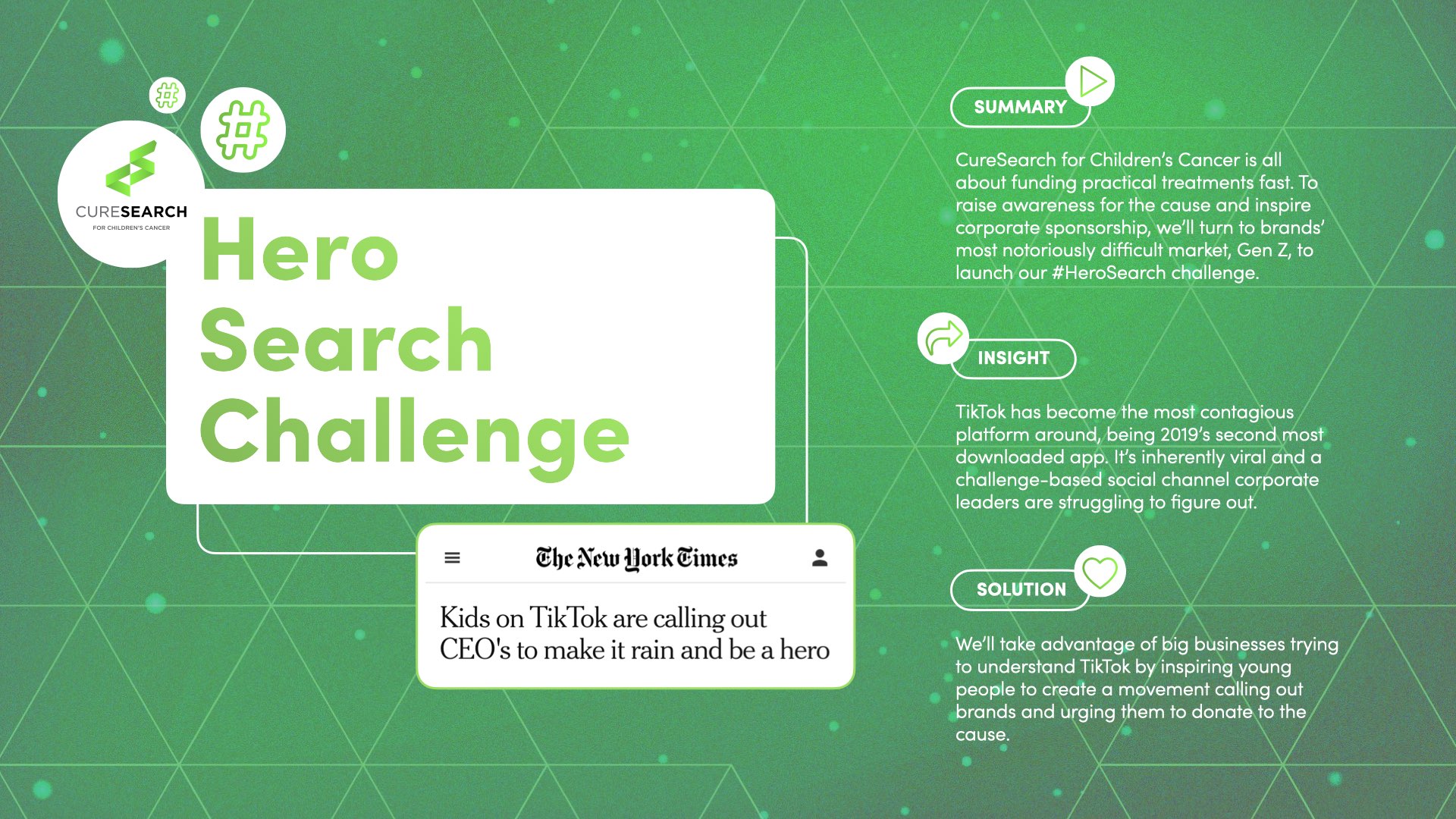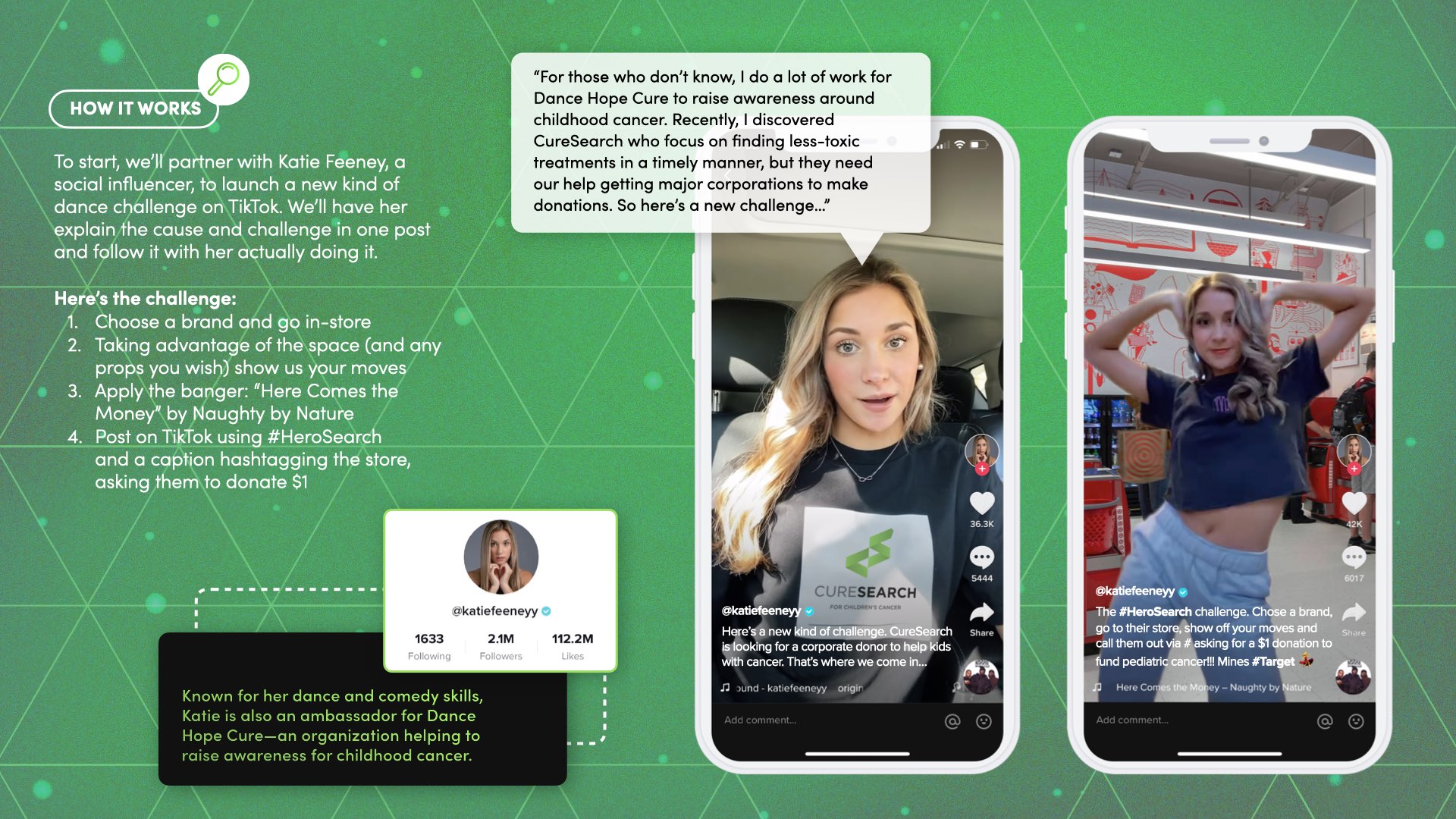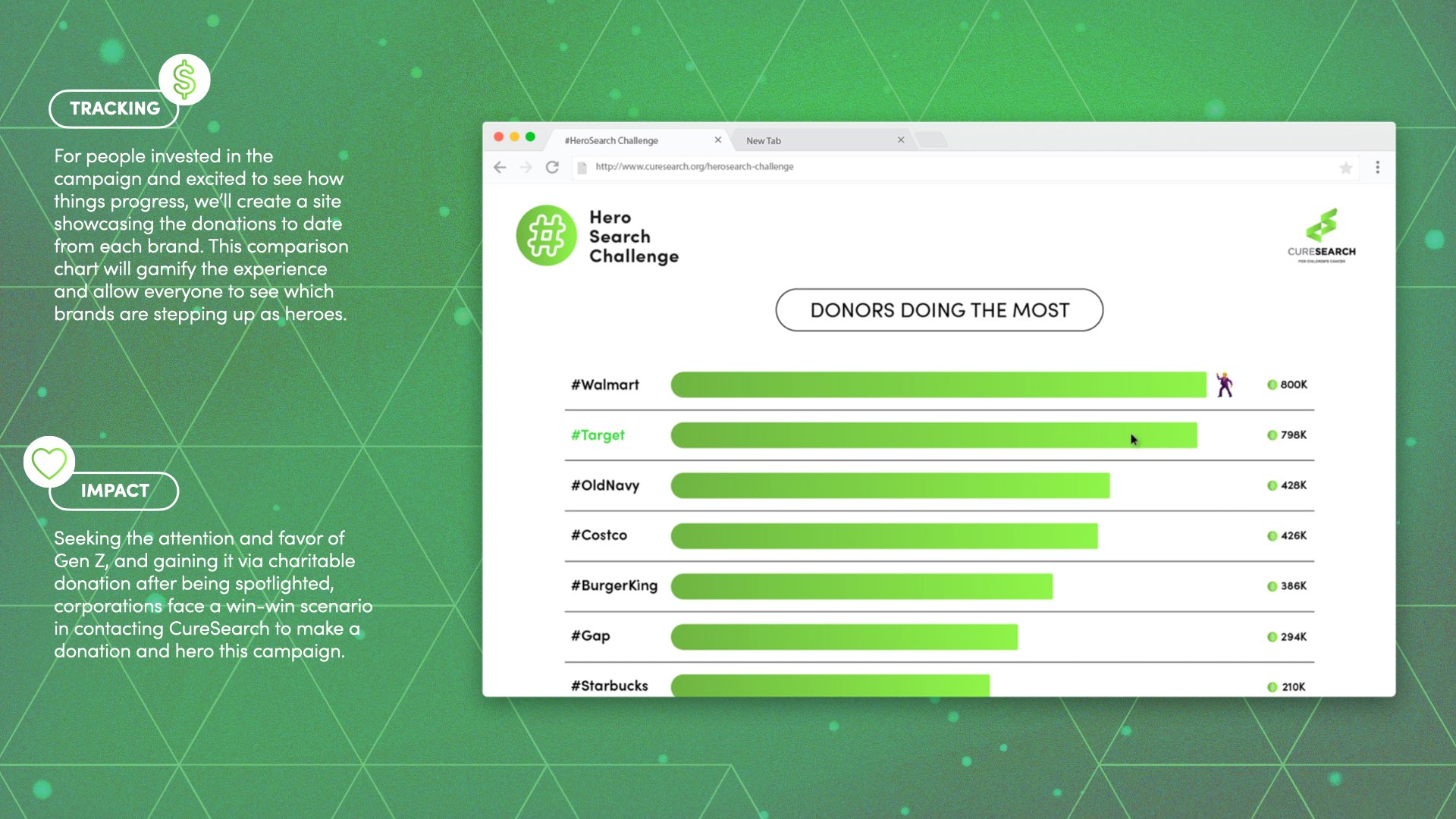 The Dating Game X Smirnoff
Throughout the summer of 2019, Smirnoff partnered with Live Nation to present a live series of "Bachelor(ette)-inspired" dating shows that would bring up people from the audience to find their match on stage. The sponsored activation traveled through music festivals like Faster Horses, Country LakeShake and Watershed Music Festival.
I was tasked with designing a custom logo for this live activation that would be used in all of the materials for marketing communication– from printed banners to T-shirts and digital screens. Since these printed/digital assets were created outside of Live Nation, I had to make sure that the logo clearly identified Smirnoff's branding in order to adapt to the material that it would be placed on.
© Julia Isman Designs 2020